Harry Hay Residence
2328 Cove Ave, Los Angeles, CA 90039
Organization
1948 → 1953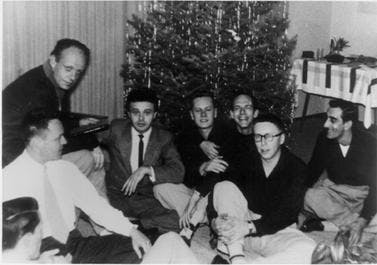 Credit: J. Gruber Papers (GLC 66), Gay & Lesbian Center, San Francisco Public Library, 1952 or 1953
←
Back
In the summer of 1948, gay activist Harry Hay clandestinely began a group called "Bachelors Anonymous" in his private Silver Lake residence. By 1950, the collective of men had become the Mattachine Society — America's first official gay organization. Mattachine inspired as a major force in the gay liberation movement, not only in Los Angeles, but throughout the country.
The primary goals of the society were to
"Unify homosexuals isolated from their own kind";
"Educate homosexuals and heterosexuals toward an ethical homosexual culture paralleling the cultures of the Negro, Mexican and Jewish peoples";
"Lead the more socially conscious homosexual to provide leadership to the whole mass of social variants"; and
"Assist gays who are victimized daily as a result of oppression".
Mattachine's membership grew slowly at first but received a major boost in the spring of 1952 when co-founder Dale Jennings was arrested in a Los Angeles park and charged with lewd behavior. Often, men in Jennings' situation would simply plead guilty to the charge and hope to quietly rebuild their lives. Jennings and the rest of the Fifth Order saw the charges as a means to address the issue of police entrapment of homosexual men. The group began publicizing the case (under the name "Citizens Committee to Outlaw Entrapment") and the publicity it generated brought in financial support and volunteers. Jennings admitted during his trial to being a homosexual but insisted he was not guilty of the specific charge. The jury deadlocked and Mattachine declared victory.
Hay resigned from the Mattachine Society in 1953. The steps up to his house were honored as a Los Angeles Cultural Historic Monument in 2012, cited as as a birthplace of gay rights.
READ MORE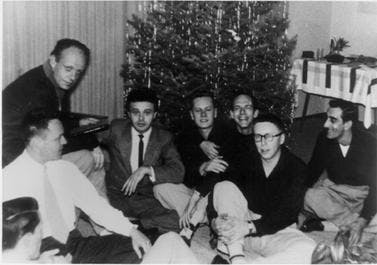 J. Gruber Papers (GLC 66), Gay & Lesbian Center, San Francisco Public Library, 1952 or 1953