ONE Inc.
2256 Venice Blvd, Los Angeles, CA 90006
Organization
1962 → 1983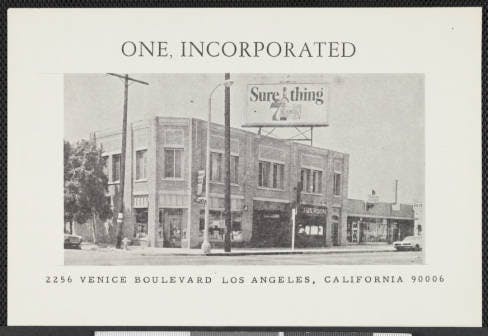 ←
Back
ONE Inc. was the umbrella organization that contained ONE Magazine, the ONE Institute, and ONE Archives.
1962: ONE Inc. moves to 2256 Venice Boulevard.
1967: ONE Magazine ceases publication.
1975: Jim Kepner's personal archive is named the Western Gay Archives.
1979: The Western Gay Archives is renamed the National Gay Archives: Natalie Barney/Edward Carpenter Library, and moves to 1654 North Hudson Avenue in Hollywood.
1981: ONE Institute becomes the first institution of higher learning in the United States to offer masters and doctoral degrees in Homophile Studies.
1983: ONE Inc. moves into the Milbank Estate at 3340 Country Club Drive purchased by philanthropist Reed Erickson. Soon after, for reasons uncertain, Erickson seeks to have ONE removed from the estate.
READ MORE