The Sugar Shack
12458 Magnolia, Valley Village, CA, 91607
Nightclub
1975 → 1978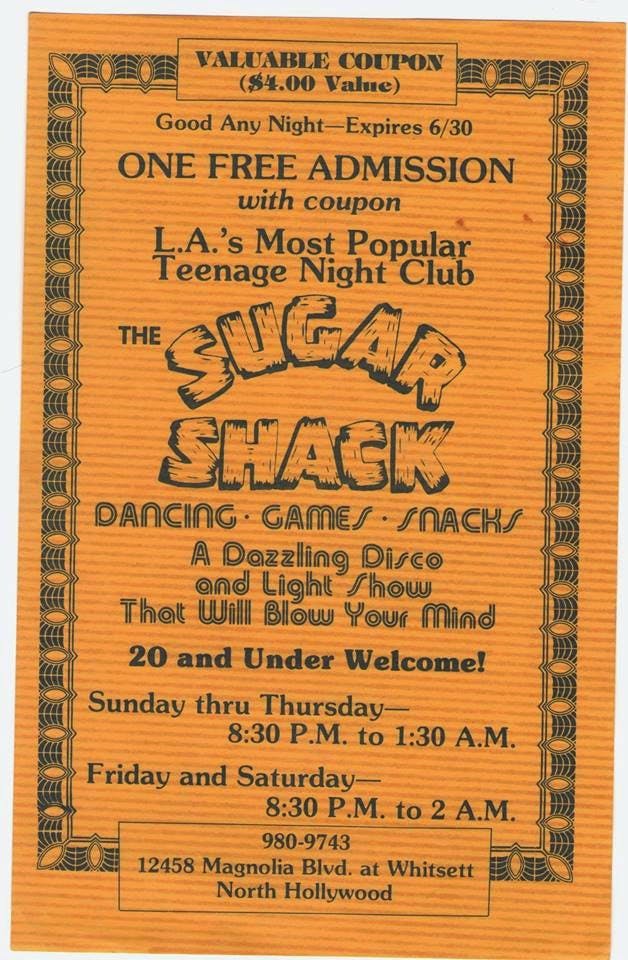 Credit: Chuck Starr, 2014
←
Back
"The Sugar Shack had been a stripper/biker club. Before that it had been a gay bar called the Outer Limits. It had an upstairs with a big round fireplace. "More More More" and "Love to Love You Baby" always packed the floor. We also played a rock-and-roll set. We started playing "The Time Warp" from The Rocky Horror Picture Show there...the actual formation dance was born at the Shack."
"The Shack didn't have any alcohol and it was open till five in the morning."
(Chuck E. Starr, DJ, from We Got the Neutron Bomb: The Untold Story of L.A. Punk by Marc Spitz, Brendan Mullen, pp. 37-38, 2001)
"The Sugar Shack was a juice bar where you had to show ID to prove that you were under twenty one...The place was tiny and wood paneled, with a long bar down the right side as you walked in. There was an upstairs lounge area that had a working fireplace, clanging pinball machines, and couches were everyone eventually wound up writhing around  with someone they'd just met.
The main attraction was the dance floor, which took up at least a third of the club. Racks of colorful lights whirled around overhead, along with a Disco ball, a siren that sounded frequently, and strobe lights. The notorious Chuck E Starr was the DJ playing Shack faves like Roxy Music's "Do The Strand", The Sweet's "AC/DC" or "Fox On The Run" and "Planet Queen" by T. Rex. He also favored hits from LA's "grown up" gay clubs, like The Andrea True Connection's "More, More, More" and "Party Line" and Hot Chocolate's "You Sexy Thing". Ziggy Stardust look-alike Rick Ferris (aka Rick Bowie) would jump up and lead an off-handed, infinitely hot Hustle...But the big crowd pleaser was anything from The Rocky Horror Show – the entire dance floor would be filled with kids doing "The Time Warp" in Busby Berkeley precision, and "Cherry Bomb" by local gals and Shack regulars, The Runaways. 
The main thing I remember about the dance floor...were the mirrored panels that surrounded it on three sides. They were covered in a thick band of kiss marks in every conceivable shade of lip-gloss because everybody would  dance facing the mirrors and  kiss their own reflections.
You'd get there early, get really wasted in the parking lot, then hang out with gay guys and make out with your girlfriends. I remember a lot of chicks wearing those chubby rabbit fur jackets...Money wasn't important… everyone was running around screaming "GIRRRRL!" and "MISS THING!" and we'd all cram into the girl's restroom to make out with each other.
There were a lot of bisexual girls" (Gehman, 2014)
"The dance floors of such Hollywood and North Hollywood clubs as the Outer Limits, Other Side, Paradise Ballroom, Sugar Shack, After Dark, Gino's II, and, ultimately, Circus were where we communicated with our bodies – an essential, enduring part of our queer development and identity." (Rojas, James, 2016).
READ MORE