The Woman's Building
743 S Grand View St, Los Angeles, CA 90057
Organization
1973 → 1975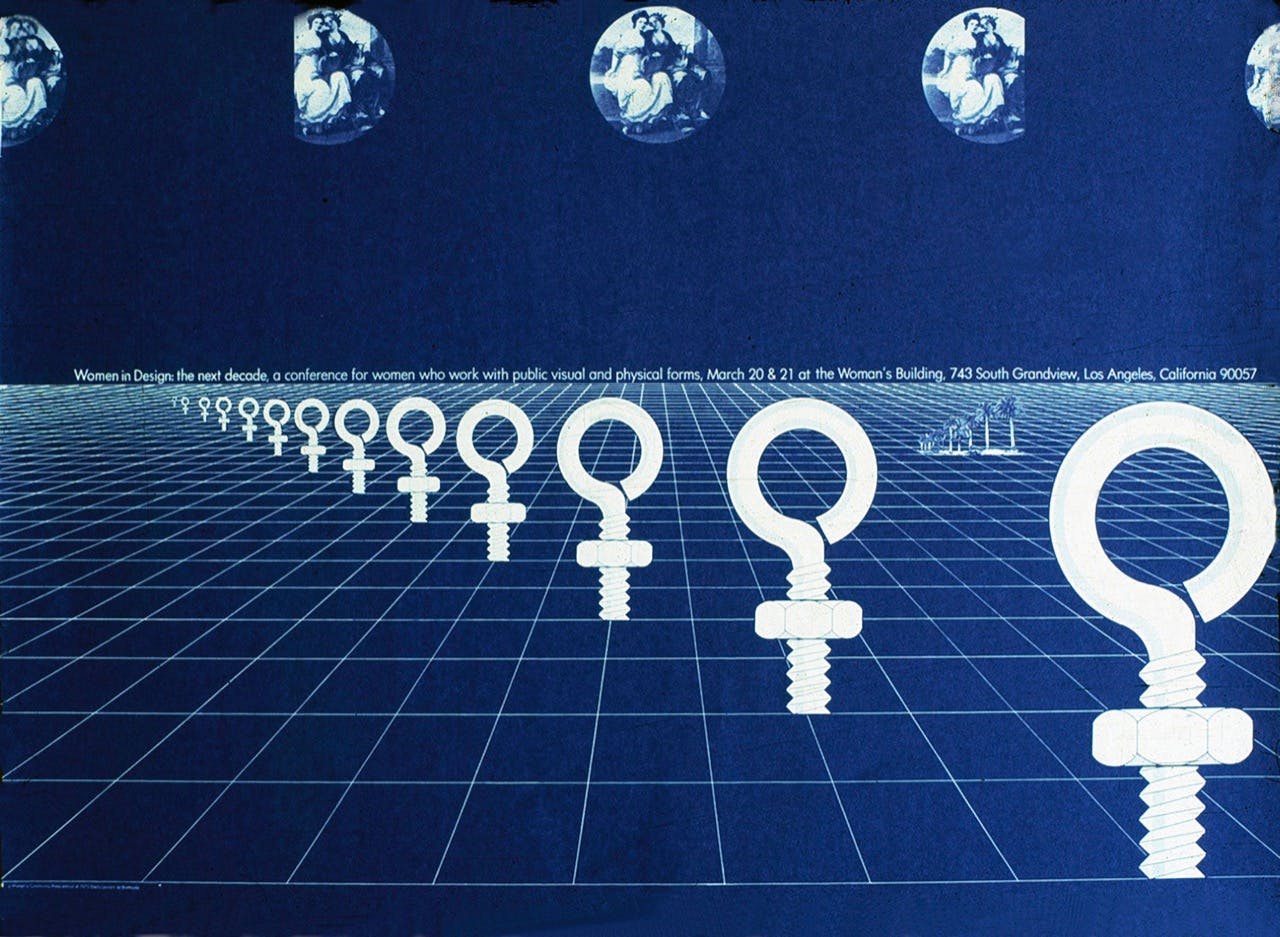 Credit: Sheila Levrant de Bretteville, 1975
←
Back
Founded as an act of protest, The Woman's Building is a cornerstone in late-twentieth-century lesbian and feminist culture.
From 1973 to 1991, the Los Angeles-based organization and facility stood as a counterpoint to most major American museums, galleries, and arts programs, which routinely excluded female artists from their circles. Created by and for women, The Woman's Building exemplified the impulse among feminists, including lesbians and bisexual women, to establish autonomous spaces outside of traditional, patriarchal institutions.
Three trailblazing women – artist Judy Chicago, art historian Arlene Raven, and graphic designer Sheila Levrant de Bretteville – came together in 1973 to create the first independent art school for women called the Feminist Studio Workshop (FSW). The founding of the FSW represented a crucial milestone of for feminist activism within the art world, which targeted mainstream institutions for their broad dismissal of female artists.
The FSW was originally headquartered at 743 S. Grand View Street, near MacArthur Park. The founders and students began to describe the educational center as The Woman's Building, a tribute to the Sophia Hayden-designed structure at the 1893 World's Columbian Exposition in Chicago, which exhibited work by female artists from around the globe.
In addition to the FSW, the building housed a number of likeminded feminist institutions, including the National Organization for Women (NOW) the first Sisterhood Bookstore, and the newsletter Lesbian Tide.
In 1975, the organization relocated to the 1914 Beaux Arts building at 1727 N. Spring Street, where it remained until its closure in 1991. Like its predecessor, the nonprofit center was known as The Woman's Building in reference to the creative achievements and autonomy of female artists.
This poster advertising the Women in Design conference held in 1975 at the Woman's Building features Sheila Levrant de Bretteville's signature eyebolt. According to De Bretteville the eyebolt was a symbol for "strength without a fist." The eyebolt was made into a necklace, and every conference attendee was given one to wear as a ticket to the event. The overall image of the poster is meant to represent a dialogue among women amongst the grid. De Bretteville describes further: "The palm trees on the grid meant that LA was this oasis of feminist activity ... and I saw the Angelika Kaufman moon as the time that's passing in which women were being nourished by the muse…I thought of the Feminist perspective as a kind of grid that enabled me to filter through what I saw, heard and read, enabling me to see what I had not previously noticed or known." (attrib. Center for the Study of Political Graphics)
READ MORE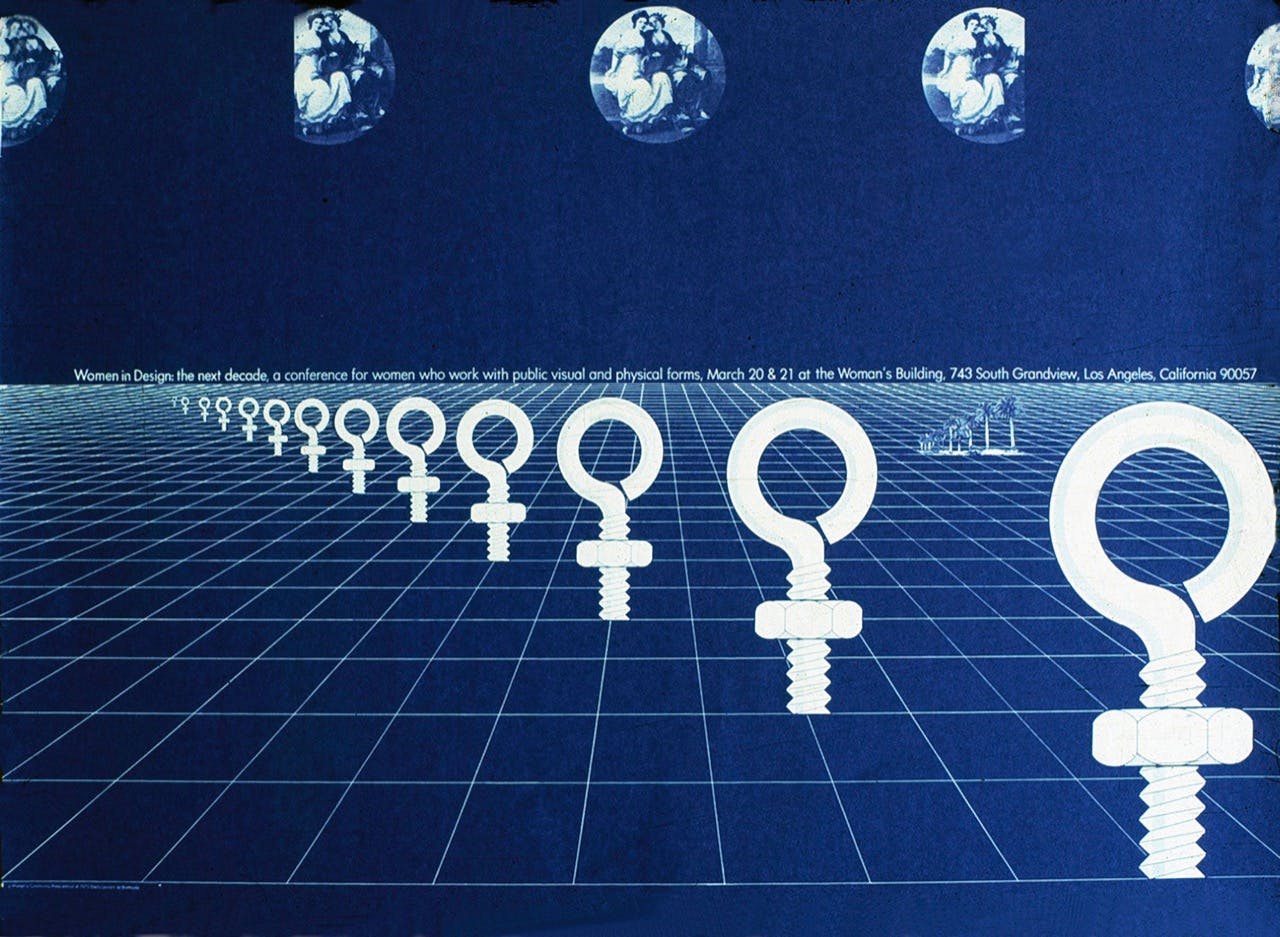 Sheila Levrant de Bretteville, 1975