The Advocate
863 N Virgil Ave, Los Angeles, CA 90029
Publication
1967 → today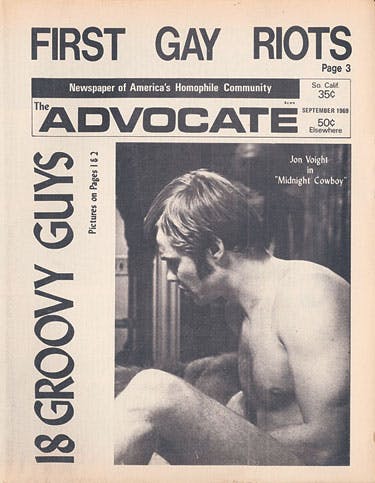 ←
Back
Founded in 1967 by Richard Mitch as a response to the raids at the Black Cat, The Advocate grew from a small newsletter for a local gay rights group (PRIDE) to the longest-running LGBT publication in print today.
The Advocate was first published as a local newsletter by the activist group Personal Rights in Defense and Education (PRIDE) in Los Angeles. The newsletter was inspired by a police raid on a Los Angeles gay bar, the Black Cat Tavern, on January 1, 1967, and the demonstrations against police brutality in the months following that raid. Richard Mitch (using the pseudonym "Dick Michaels") and Bill Rau (under the name "Bill Rand") joined PRIDE and, along with Aristide Laurent and artist Sam Winston, transformed the newsletter into a newspaper titled The Los Angeles Advocate. The first issue bore a cover date of September 1967, and was sold for 35 cents in gay bars in Los Angeles. By early 1968, PRIDE was struggling to stay viable and Mitch and Rau paid the group one dollar for ownership of the paper in February of that year. In 1969 the newspaper was renamedThe Advocate and distributed nationally. By 1974, Mitch and Rau were printing 40,000 copies for each issue.
Uncertain how long the magazine kept its office at this address.
READ MORE