The Black Cat Tavern
3909 Sunset Blvd, Los Angeles, CA 90026
Bar
1966 → 1967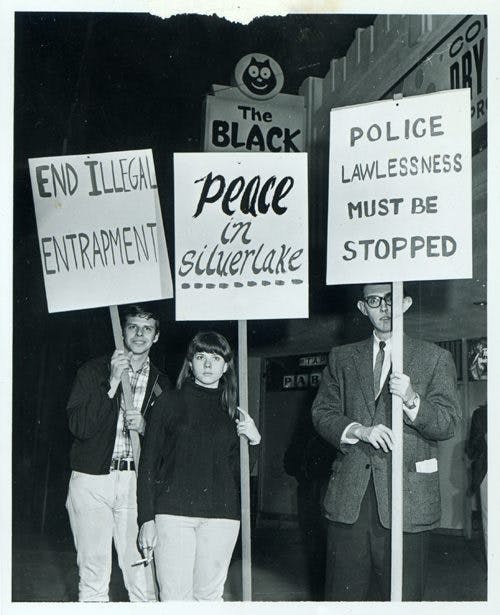 Credit: Courtesy of USC Libraries, 1967
←
Back
"The Black Cat was happy and hooping" before undercover police arrived and started beating patrons as they were ringing in the New Year: "There were colored balloons covering the ceiling ... and three glittering Christmas trees." Moments later, "all hell broke loose." After arresting several patrons for kissing as they celebrated the occasion, the undercover police officers began beating several of the patrons and ultimately arrested fourteen patrons for "assault and public lewdness." The police used deliberate and excessive force during the raid to carry out explicitly homophobic state legislation that prevented queer folks from (1) kissing and/or engaging in any sexual acts, and (2) wearing clothing that did not match their socially prescribed gender role. For example, one of the patrons was aggressively beaten in the head by a cop wielding a pool cue.
This created a riot in the immediate area that expanded to include the bar across Sanborn Avenue called New Faces, where officers knocked down the owner, a woman, and beat two bartenders unconscious.
The owner of this bar, The Black Cat, which had opened in October of '66 – only two months earlier – had his liquor license and his entertainment license suspended. He fought for five months to get them reinstated. He lost every appeal and he eventually closed on May 21st 1967 because he had no liquor license. The signage remained until at least 1974
Several weeks later, this police action incited a civil demonstration of 200 attendees to protest the raids on February 11, 1967. The demonstration was organized by a group called PRIDE (Personal Rights in Defense and Education) – founded by Steve Ginsberg – and the SCCRH (Southern California Council on Religion and Homophile). The protest was met by squadrons of armed policemen. It was from this event that the publication The Advocate began as a newspaper for PRIDE. Together the raid on the Black Cat Tavern and later the raid on The Patch in August 1968 inspired the formation of the Metropolitan Community Church (led by Pastor Troy Perry).
On November 7, 2008, the site was declared a Los Angeles Historic-Cultural Monument, HCM No. 939.
READ MORE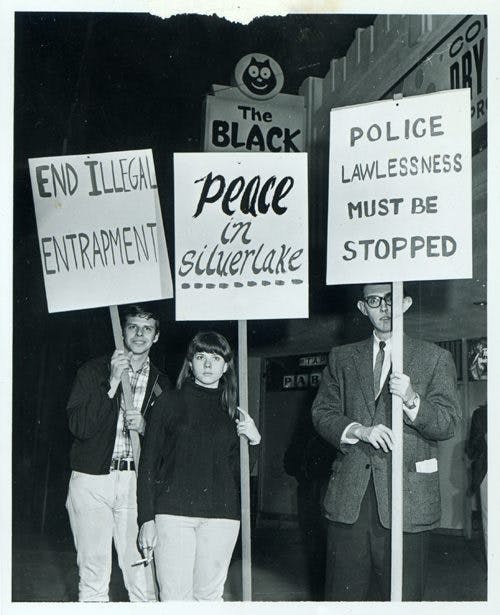 Courtesy of USC Libraries, 1967